Burna Boy & Zlatan Slammed On Twitter For Trolling Rema's "Beamer"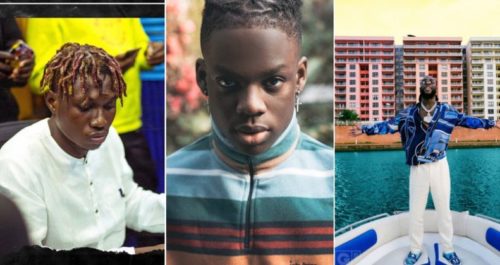 Burna Boy and Zlatan have been dragged by Nigerians on Twitter for mocking Rema's "Beamer"
Zlatan and Naira Marley made the headlines yesterday when they made some insensitive remarks about the coronavirus and Twitter users were quick to call out the singers for using their platforms in the wrong way. Well Zlatan is in the news again and this time it's for ridiculing Rema's 2020 smash hit "Beamer'
In a video that has gone viral, Zlatan and Burna Boy could be seen vibing to the track but what caused a stir was the fact that Zlatan was mumbling the lyrics and Burna immediately joined in too and both singers started laughing . Thousands of fans took to their accounts to slam the singers for behaving in such manner while others defended them saying they were just catching "cruise".
Here are some of the reactions below:
Only problem is that this isn't the first time Zlatan is doing this to a Rema song. And we all know how salty Burna normally is so……. https://t.co/8DsBrrY6sZ

— Don Krisatelli (@Ek_ristine) March 24, 2020
Nigerians can literally swallow panadol 4 headache they're nt having. Did Rema ask y'all 2b his defense attorney? Zlatan & burna boy were having a swell time; chopping mouth to his lyrics. How many times av u done it? Did u do it to ridicule the artist? Shut up & stay at home! pic.twitter.com/ug2Zy4klFt

— Black Abraham Lincoln (@SpearsSaint) March 24, 2020
I don't think burna boy and zlatan were making fun of rema. Just normal cruise… If I was so sing any of Rema's song I'll probably do the same! Just saying tho…

— The Vicky Shegzy ? (@VickyShegzy) March 24, 2020
??? i find that funny, like i do what zlatan did whenever i dont know the lyrics to a song. The way people reason is different sha. https://t.co/ekxTFOdRVc

— Thatflourgirl? (@tophasbite) March 24, 2020
Wait Burna Boy and Zlatan they use style dey shade REMA?. Let me not talk before they say atun ti De?. É deY pain me sha?. Well Rema didn't pave way for himself so what does he know?

— the.eniola.alesin (@ennyorlahalesh) March 24, 2020
Zlatan and Burna boy were catching cruise in this video. I don't see any ridiculing.
A lot of people do say Rema speak in tongues. So what's the big deal if Zlatan doesn't know the lyrics? Considering he's a moron ? https://t.co/uBSwmH3Nq7

— The Ómó Ìbó ??? (@Chinazzar1) March 24, 2020
With the way Zlatan and Naira Marley are talking, you'd think they have more money than DJ Cuppy who doesn't shame anyone despite getting a lot of unnecessary hate. I know the people to blame sha.

— Chemical Brother ? (@chemicalbrodar) March 24, 2020
Look at Zlatan and Burna trying to ridicule Rema, man is 20 and is already a hit monster

Zlatan has not had a single hit of his own since Zanku that blew him and Burna boy has no hit to his name since he stopped sampling Fela and Kidjo

Who's fooling who?? https://t.co/wzU8FlghoD

— Aba Boy ? (@Frank_LeanXV) March 24, 2020
Rema is actually better than Burna Boy and Zlatan but we are just not ready to say it…. because it's the fact.

— Engineer Tolu Tezzy_ ? (@tolutezzy_) March 24, 2020
I understand that Zlatan can be very annoying sometimes but if we look at things on a neutral ground, Burna boy, Zlatan and those in the videos were just catching cruise.
I don't feel they were mocking Rema.
Come on, many of us do these things when we are having fun. Relax na

— Tife? (@Tife_fabunmi) March 24, 2020
The post Burna Boy & Zlatan Slammed On Twitter For Trolling Rema's "Beamer" appeared first on tooXclusive.
Source: Tooxclusive Feed
Share this post with your friends on
0 Responses

[an error occurred while processing the directive]